Blockets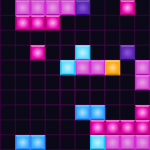 Blockets is a puzzle game with a retro/neon punk theme. The goal of this game is simple: place the blocks in the grid and complete lines and columns.
As you complete lines, the difficulty increases and more complicated shaped blocks will appear. Try to reach the highest score!
Tech
The game was coded in Typescript, using Cocos Creator as game engine, targetting HTML5.
Credits
All code, graphics and game design by Piron Games.
Music track is "Return to the basis" by Soft And Furious, licensed under the terms of CC0.