SuperChicken Battles the Penguin Horde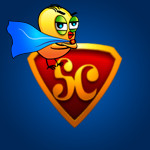 Why did SuperChicken cross the street? To shoot penguins, why else? :) So here it is, the next original Piron production. This time it's simple, no more brain bashing, strategy, spells. Just shoot anything that moves and it'll be OK. Choose between BabyChicken (easy) or SuperChicken (hard), with different abilities and campaigns. Get the ten awards to prove your shooting skills.
Help
there are 3 control modes, all of them have a brief description in the "Mission Selection" screen. But I guess you know the general drill, WASD or arrow keys to move, left mouse button to shoot, 'Space' to activate superpower ;)
collect energy bubbles that the enemies are dropping, you may use them to upgrade your skills or shoot the superpower;
the superpower may be used anytime (there is no cooldown, that is), as long as you have enough energy;
in "Forever Endless" game mode try to stay alive as much as you can;
in "Super Dodgeball", you cannot shoot or use the superpowers, so you have to dodge the incoming...evil things
if you think the game's too hard, no need to look for a SuperChicken hack/prehack! Just type, while in mission, 'god' (invincible), 'bat' (turn upside down) or 'tiny' (shrink the chicken)
Press release
Read the press release and download some goodies
here
.