Orbital Decay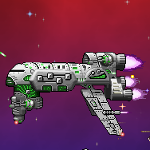 Info
Are you craving for an epic space battle? Then come and face the perils of space, from meteor showers and minefields to entire alien fleets bent on destruction, to unravel the mystery of the drone carrier Radiant Star and the fate of the humankind.
I've made this game in 2009, for Flash and updated it for HTML5 in 2018. The current version also sports a graphical update of the main menu and some support for mobile/touch screen controls (not the best, but playable).
Out of the many games I've made as a solo game developer, Orbital Decay, is, so far, my favorite.
Why You Should Play It?
Here's what the players have said about it:
"spacetastic game in the universe" (Michaelx001)
"That's awesome! Your the creator of this game right? Cause if you are you made my childhood super fun" (Neusxanity)
"I simply loved Orbital Decay when I was a child!" (Leandro)
"This is still one of my favorite experiences on Kong. Ever." (hakoMike)
"holy crapalaka omfg this game is wicked awesomeO.O" (killaofyou)