Don't Worry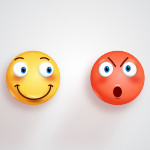 Info
Here's a small 5 minutes game to show off your dodging skills.
Create smileys, dodge enemies and try to fill up the world with smileys.
Can you achieve the highest score in 15 increasingly difficult levels? You can only find out if you play...now!!
Tech
The game was made in Cocos Creator/Typescript, targetting HTML5.
Read the full press release here, if you're interested in the inner workings.