Ninjas!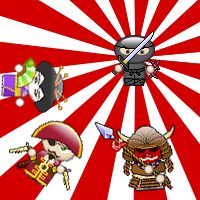 Ninjas! is a turn-based puzzle game, where the goal is to guide your elemental ninja in combat against enemies.
Your ninja can switch between 5 elemental forms, each with strengths and weaknesses: fire destroys metal, metal destroys wood, wood destroys earth, earth destroy water, water destroys fire. Completing the first 20 levels will unlock "Elemental Mastery" and you can switch forms during combat. There are 30 levels in total.
Ninjas! was the first web game I've developed and offered sponsorship for, back in 2008. Originally a Flash game, since 2018 it's also available in HTML5 format.
Fun fact: as the game is pretty lightweight, you can even play it in your smart TV browser, using a remote control!
Tech
Haxe with Flash target (original version, 2008), Haxe/OpenFL with HTML5 target (2018 version)