Dog And Ball Forever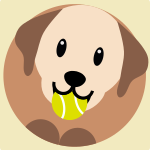 Info
Dog And Ball Forever is a physics puzzle game where the goal is to draw shapes and help the dogs get the balls.
There are 30 challenges to beat. Try to do it perfectly and collect the stars, which you can then use to unlock more dogs and more balls and a…sheep!
Please leave a comment if you've enjoyed this game. Feedback means a lot as I try to improve this game and add more levels!
If you're a cat person, I've also made a game with cats and physics, Purrtastic Four!
Tech
The game was made in Cocos Creator/Typescript, targetting HTML5.
Release
This game is the last of a series of 12 games made over the course of a year. It is also my 20th web game, a milestone I'm very happy and proud to have achieved.
The game-play is inspired by some old Flash games as well as newer mobile games like Love Balls. The aesthetics are partly inspired by 2 Stupid Dogs, a cartoon that ran many-many years ago on Cartoon Network.
The labrador retriever, featured on the intro screens and the default game character, is called Dick and is inspired by my parents dog. At a young age, labrador Dick was a happy rolling doggo that chased his tail, balls and rubber toys. Now…well, he's just an old doggo :)
The game production took slightly more than the other games, because it took me quite some time to settle on the art style. It's still not very well defined, but I'll have to live with it for now :)
It's not possible to get enough stars to unlock all content at the moment. This is mainly because I plan to release more levels in the future, some free, some available to Coil subscribers only.