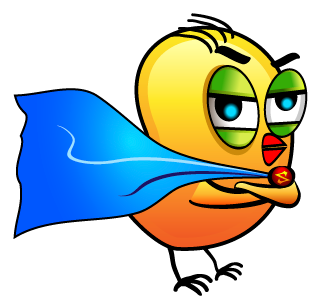 Do you know why did SuperChicken cross the road? To shoot the invading penguins and save the chicks, of course.
What's inside
2 heroes, SuperChicken and BabyChicken, each with different superpowers
For each hero, 10 campaign missions where you'll get a shot at the Penguin King
"Forever Endless" to shoot down increasingly difficult waves of the Penguin Army
"Super Dodgeball" to show your skills at avoiding…the evil
A leaderboard to record your scores forever
How to do it
Collect energy bubbles to upgrade your skills and fire the superpower
Superpower may be fired at any time, as long as you have enough energy
Three control modes (Keys + Mouse, Mouse Only and Reversed Keys+Mouse)
And don't ask why Reversed Keys. It was easy to code it 🙂
Cheats
Yep, we have them. No need to google any further for "SuperChicken prehacked". During the mission, type 'god' to become invincible, 'tiny' to shrink your hero, or 'bat' to turn it upside down.
Awards
A shooting game would be so empty without them. So yeah, we have those too. Unlock the ten awards to show your shooting skills.
Credits
Karg/Piron Games for Coding, Design and a million other small things
Ionut Jinga for the crazy artwork
Alex Mazilu for additional artwork of the Super Dodgeball.
And just for you…
Because you are or might become a fan of SuperChicken, Piron Games or our other games, here are two wallpapers to spice your desktop.
And, of course, we would be happy to read what you think. Good or bad, throw it down here.