Swooden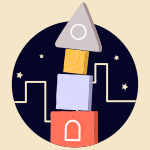 Info
Swooden is a cute online game, with physics puzzle elements, where you balance wooden blocks into amazing structures. Fight the reverse gravity, avoid the saws and beat 28 challenges!
Tech
The game was made in Cocos Creator/Typescript, with a HTML5 target.
Design
Swooden follows in the footsteps of my previous games like Amazing Acrobats, Art Of Balance and Purrtastic Four, where I've explored the balancing physics game genre. It's not as pretentious as, say, Art Of Balance, yet, I think, it still delivers a twist in the classic gameplay.
In case you're wondering why 28 levels (and not 30 or any round number), well, that's because that many level icons fit in the UI and I was too lazy to go back to Inkscape and redesign things.
But, by all means, please leave a comment, here or on Facebook, if you like this game. I'm always looking forward to add new features and levels if a game stirs some interest!