Dodge This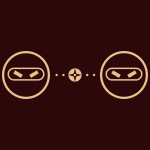 Info
Dodge This is a minimalist puzzle where you have to eliminate all the enemies with a single shot.
Simple enough? Then hit play and show'em they can't dodge it!
Tech
The game was made in Cocos Creator/Typescript, targetting HTML5.
Read the press release here, because, you know, in game development there a lotta ins, lotta outs, lotta what-have-you's.
Versions
1.0.3 (18.10.2021)
Chapter 2 with 20 free new levels and 10 with Web Monetization. Things are shifting, turning, pulsating.
Added a target history option (can be enabled/disabled from the settings).
Minor cosmetic changes.