Purrtastic Four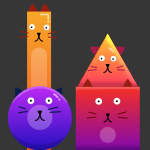 Info
Purrtastic Four is a level-based physics puzzle with cats and a minimalistic art style. Place all the cats on screen in perfect balance...OR..toss them so they end up in perfect balance! There are currently 30 levels to beat and hopefully, more will follow.
Tech
The game was made in Cocos Creator/Typescript, with a HTML5 target.
Read the press release
here
, if you're into the details.